Edulink One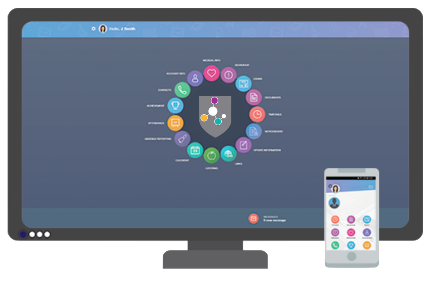 Parrenthorn HS uses a portal called Edulink One which provides a convenient and accessible solution for the school to communicate with parents on all aspects of school life and also allows parents to access all information about their child in one place.
What can Edulink One do?
Some of the EduLink One features which parents may find useful are listed below:
Absence Reporting - This feature is coming soon.
Account Info -

This section allows parents to see general information that we hold about their child.

Achievement - This section allows

parents to see any achievements awarded to their child.

Behaviour - This section allows parents to see any behaviour records for their child.
Calendar - This will be populated with upcoming events, parents evenings, school holidays. If a dot is showing under a date, it means there are one or more events happening on that day, click the date to find out more information.
Catering - This section allows you to see what your child has ordered for their lunch.
Clubs - This section allows parents to see any extra-curricular clubs that a student has joined.
Contacts - This section shows parents the contact information that the school has on file, please get in touch if this needs to be updated.
Forms - On occasion the school will ask parents to complete reply slips via EdulinkOne, these are found in the forms section
Homework - The homework section allows parents to see all of the homework that has been set for their child, the section also allows parents to see past homework that has been completed
Links - This section contains various useful weblinks
Medical Information - This section shows parents what medical information the school has for their child.
Noticeboard - This section contains various documents that a parent might find useful from school.
Timetable - This gives parents access to their child's school timetable
Parents Evening - This section allows for parents to book parents evening appointments
Reports - This section will show parents any released school reports for their child.
FAQs
How do i get a log-on for Edulink One?
Parents will receive a username & password via email from Parrenthorn High School. If you have not received an email, please contact the school office.
Is Edulink One secure?
All data contained within Edulink One is encrypted and secured using the most up-to-date TLS 1.2 secure encryption technology
How can i access Edulink One?
Edulink One is a school information platform that can be accessed on any device - PC, Laptop, Tablet or Mobile Device - via a web browser or the dedicated Edulink One app. Links to the app can be found below.
What is the school ID for Edulink One?
The school ID is Parrenthorn
Links
Apple App Store Link (iOS)
Google Play Store Link (Android)
Amazon App Store
Weblink